There are 60 days (including spring break) until my graduation— yes, I've taken to counting the days— but I have yet to decide what I'm going to wear. Obviously, college has helped my hone my procrastination skills. However, this isn't my first rodeo, and I do have a few rules to follow when choosing the perfect graduation outfit: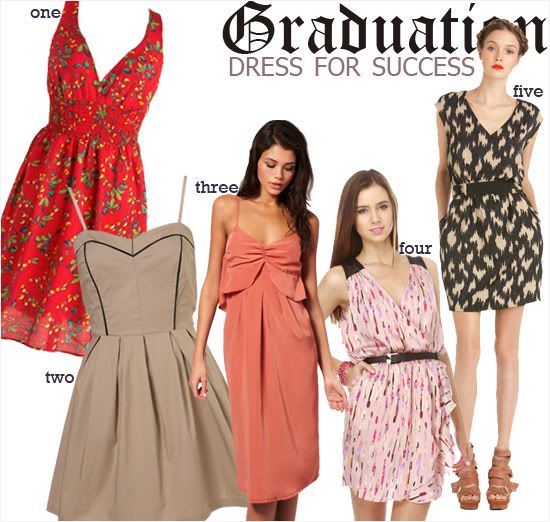 1) Wear a dress. I know, this seems completely limiting, but who wants to fool around with separates when nervous/anxious/excited? Not me! Rompers can count as a dress, if need be.
2) No high necks. This also has to do with nerves. With everyone (family, friends and exs) watching, you may start to feel a bit claustrophobic. Therefore, I don't advise anything too close to your throat, or you may get that strangled feeling.
3) Wear nothing too long, short or tight. The last thing you'll want while waiting for your name to be called is an outfit that makes you fidget. Forget get clothes that you'll have to tug down, smooth out, or lift up whilst walking.
4) Find a spring pattern. This is more of a personal decision. I graduate on May 22— why not feel pretty in a floral print or a soft spring color? Sorry, Black, not today!
5) Look hot. Did I mention everyone is watching? Sure all of the graduates are sporting ugly, over-sized muumuus, but that doesn't mean you can't look hot under your gown. When you feel hot, then your exude hotness. Make everyone wonder, "Who's that girl?"
These rules may seem restrictive, but trust me, the only thing you need to concentrate on while walking across that stage is not tripping over a cord, slipping on your gown, or grinning like a fool. Note to self: practice a peaceful smile in the mirror.
SHOP THIS LETTER: The Naturalist Dress, $47.99, available at modcloth.com. Rachel | Rachel Roy The Bennet Dress, $109, available at rachelroy.com. Confetti Celebration Pink Dress, $38, available at lulus.com. Wal G**Piped Pleat Dress, $58, available at topshop.com. ASOS Midi Drape Strappy Dress, $80.69, available at asos.com.