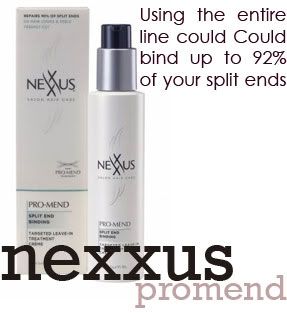 Winnie, you're known for a perfect bob, among other things. How you manage to stay split end-free is beyond me— you must get clipped every week. For those of us without super Voguette perfect-hair powers, there's the new Nexxus ProMend hair care line.
A couple of weeks ago, while perusing the aisles of my local CVS, I bought the Nexxus ProMend Leave-In Treatment Crème. I didn't know whether it would work, but for under $10, I decided to give it a try.
How it works
You are supposed to apply the leave-in cream to damp hair after you wash it. I have fairly dry hair and don't have to wash it daily, and I realize little difference is made when only applying a product once per week. My regime includes a nickel-size amount post-wash and a squirt mixed with the MoroccanOil every couple of days.
The Results
After using the leave-in treatment for just over two weeks, it minimized the look of split ends. My hair isn't perfectly coiffed like yours, put the ProMend helps keep my hair from looking too damaged, even if I've just spent the week heat-torturing it.
I haven't tried the entire Nexxus ProMend collection— I'm still using Andre Walker's Keratin Shampoo and Conditioner and don't want to trade— but if you're interested in the ProMend Overnight Treatment, read Eileen's review on Miss Whoever You Are.
SHOP THIS LETTER: Nexxus Pro Mend Split End Binding Targeted Leave-In-Treatment Creme, $9.99, available at cvs.com.