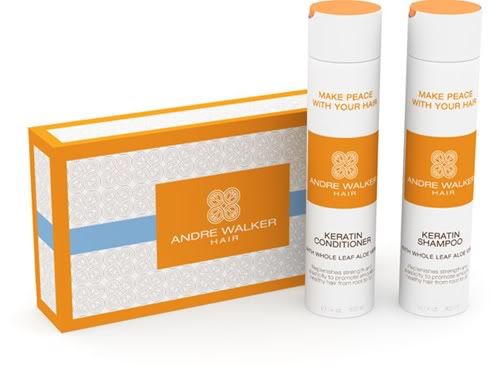 You know when celebrities go through a break-up,how  they change their hair? Well, the day after my ex and I broke up, I decided to get a Brazilian Blowout. It took forever, and costs an arm-and-a-leg, but it was well worth it. A few months later I decided to get another Brazilian instead of doing my normal hair relaxer. Again, it lasted months, which brings me to the beginning of December when I realized I didn't quite need a Brazilian Blowout to manage the frizz because there is little to no humidity during New York-winters.
So, I blew the dust off my old, trusty box of relaxer and went on with my business, knowing I could technically have the best of both worlds, extra money from a self-applied relaxer and the protection of keratin through various keratin-based hair products products.
Here are my top picks for keratin hair products:
At Home Straighteners
There a few quick and dirty at home keratin straigteners. None of them last as long as the professional treatments, but the cost is a hell of a lot less. Liquid Keratin is a company with a professional keratin treatment, but they also created the Liquid Keratin 30 Day Straight-Smooth-Strong & Long Treatment Starter Kit ($69, available at beauty.com). It only takes about 30 minutes to apply and claims to last up to six weeks, but more likely lasts about four weeks.
PENNY SAVER: Hair Rescue Keratin Reconstructor, $10.99, available at sallybeauty.com.
Shampoos & Conditioners
Ask any hair stylist who knows how keratin treatments work, and they'll tell you to use a sulfate-free, keratin-based shampoo and conditioner. I've tried my fair share and have to say, the Andre Walker Keratin Shampoo & Conditioner ($39, andrewalkerhair.com) are at the top of my favorites list — Walker is also Oprah's hairstylist extraordinaire, and considering my sister used to work at O magazine before she passed away, I have a strong allegiance to Ms. Winfrey. You can also try the Keratin Complex products, the Keratin Complex Vanilla Bean Deep Conditioner ($20, available at folica.com) smells delicious.
Styling Sprays
Yes, keratin is not relegated to just straighteners and S&Cs, brands are even adding them in styling products. These are the type of sprays you really want to use before heat-styling your hair. Not only do they seal in moisture, but they also protect your strands from the heat. Some people live by Sally Hershberger's Wave Spray, but I've been obsessing over the Sally Hershberger Hyper Hydration Super Keratin Spray ($12.49, available at ulta.com). It keeps my hair soft and I swear there's less breakage created by my flat iron. Also, the CHI Keratin Mist ($13.99, available at target.com) was the first keratin styling spray I used, and it receives my stamp of approval as well.
Leave-In Treatments
With the keratin trend in full swing, you're bound to find a ton of leave-in keratin treatments. One such product is the Paul Mitchell Awapuhi Wild Ginger Keratriplex Treatment ($54, available at awapuhi.paulmitchell.com). It's a bit pricey for such a small vial of goodness, but the Awapuhi line has received some great reviews. For something a bit more substantial for your money, try PHYTO 'PhytoKarité' Hair Treatment Mask ($38, available at nordstrom.com). It comes in a good-sized pot and is heavy enough to work well on very curly hair.
PENNY SAVER: Rusk Pro Elements Keratin Smoothing Treatment, $16, available at rusk1.com.