It's almost the end of the year, and you know what that means? New Year's Eve parties! There are 101 ways to wear your makeup for a New Year's Eve party, but whether you're going for dark and dramatic, glimmer with shimmer, or natural-looking, there is one thing you must use on NYE if at no other time— lip stain.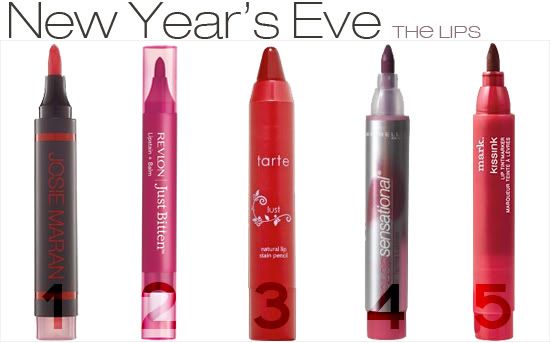 Winnie, I totally envision you as more of a creamy lipstick lady, but maybe for New Year's Eve you should heed my lip stain advice, and here are a few good reasons why: champagne, kisses, more champagne and inevitable intoxication.
While sipping the bubbly all night, then kissing one or more guys— everyone needs a New Year's kiss and far be it from me to deny them one— you're not going want or remember to reapply lipstick throughout the night. Lip stain let's you apply once and forget about it, no matter how many glasses and boys touch your lips.
I know lip stain has been around for forever and a half, but this is simply a reminder of its importance, especially during this time of year. Also, there are so many great lip stain options at various price points out now, you have no reason not to choose a stain instead of a stick or gloss.
You can ignore my warning, but while you're in the bathroom reapplying, I'll be wishing your date a happy New Year.
p.s. If you want other holiday hair and makeup tips, checkout my post on LHJ.com, "Simple Holiday Hair & Makeup Tutorials".
SHOP THIS LETTER: Josie Maran Magic Marker Lip and Cheek Stain, $19, available at josiemaracosmetics.com. Revlon Just Bitten Lip Stain + Balm, $8.99, available at revlon.com. Tarte Natural Lip Stain with LipSurgence Technology, $24, available at sephora.com. Maybelline Color Sensationl Lipstain, $6.99, available at ulta.com. mark Kissink Lip Tintmarker, $7, available at avon.com.