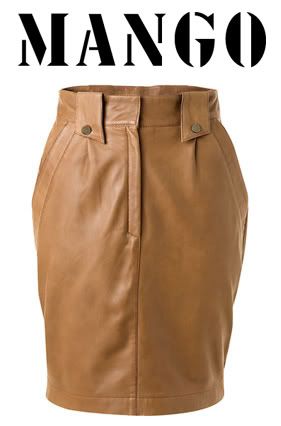 It's almost the end of the week, can you believe it? Around this time every week, I have the same thought, "what am I going to wear to work tomorrow?"
I'm not sure if I told you, but I go to my internship on Fridays, and though I know Friday is usually the day everyone dresses casually, it's the only day I go into the office, so I have to look cute, right? Well, I guess you'd say I shouldn't differentiate between what I'd wear to work and to school, but the fact is, I do. I can't help it! Don't worry, high heels are always a must.
So, back to my point, while I was thinking about what I wanted to wear to work tomorrow, I realized I need a leather pencil skirt. I haven't worn leather on my bottom half since those terrible middle school years when the Josie and the Pussycats movie came out and every girl at my school was in desperate need of a pair of leather, flared pants— ironically the movie was about subliminal messages in advertising.
My newfound appreciations for leather skirts obviously started with the Louis Vuitton Fall 2010 collection, but I'm a little person and hauling around all that leather would just be exhausting, plus I can't afford a $2,000 skirt, but that's beside the point. To cut down on weight (and cost), I think a perfectly cut tan leather pencil skirt will suffice.
Tan, being a neutral, goes with every color combination I can think of, and pencil skirts not only give me a sexy walk like Joan Holloway but also give the illusion that I have killer curves like her. Can I get an Amen?
What say you, Winnie? Should I treat myself a bit with this skirt from Mango?
SHOP THIS LETTER: Mango Skirt T-E Lapepi, $199, available at mangoshop.com